Maximum Towing Capacity: 10,200 pounds
If you're searching for a truck to lend a helping hand around your worksite, consider the 2020 Toyota Tundra. When properly equipped, this pickup can handle tows up to 10,200 pounds-perfect for your large camper or bulky equipment.
To give you a breakdown of the Tundra towing capacity and technology, as well as its cargo capabilities, our team at Thompson Toyota put together this review.
Handworkers near Edgewood, Clayton, Bel Air, and Baltimore, MD, can read on to learn more and contact us with any questions.
---
Toyota Tundra Towing

Toyota Tundra Maximum Towing Capacity

10,200 pounds

Toyota Tundra Engine

5.7-liter i-FORCE V8

Tundra Bed Length Options

66.7 inches, 78.7 inches, and 97.6 inches

Toyota Tundra Horsepower

381 horsepower
---
Tundra Towing Power
Toyota Tundra Engine: 5.7-liter i-FORCE V8
Tundra Horsepower: 381 horsepower
Tundra Torque: 401 lb-ft
Tundra Frame: Rugged TripleTech™ frame
Toyota Tundra Fuel Tank: 38 gallons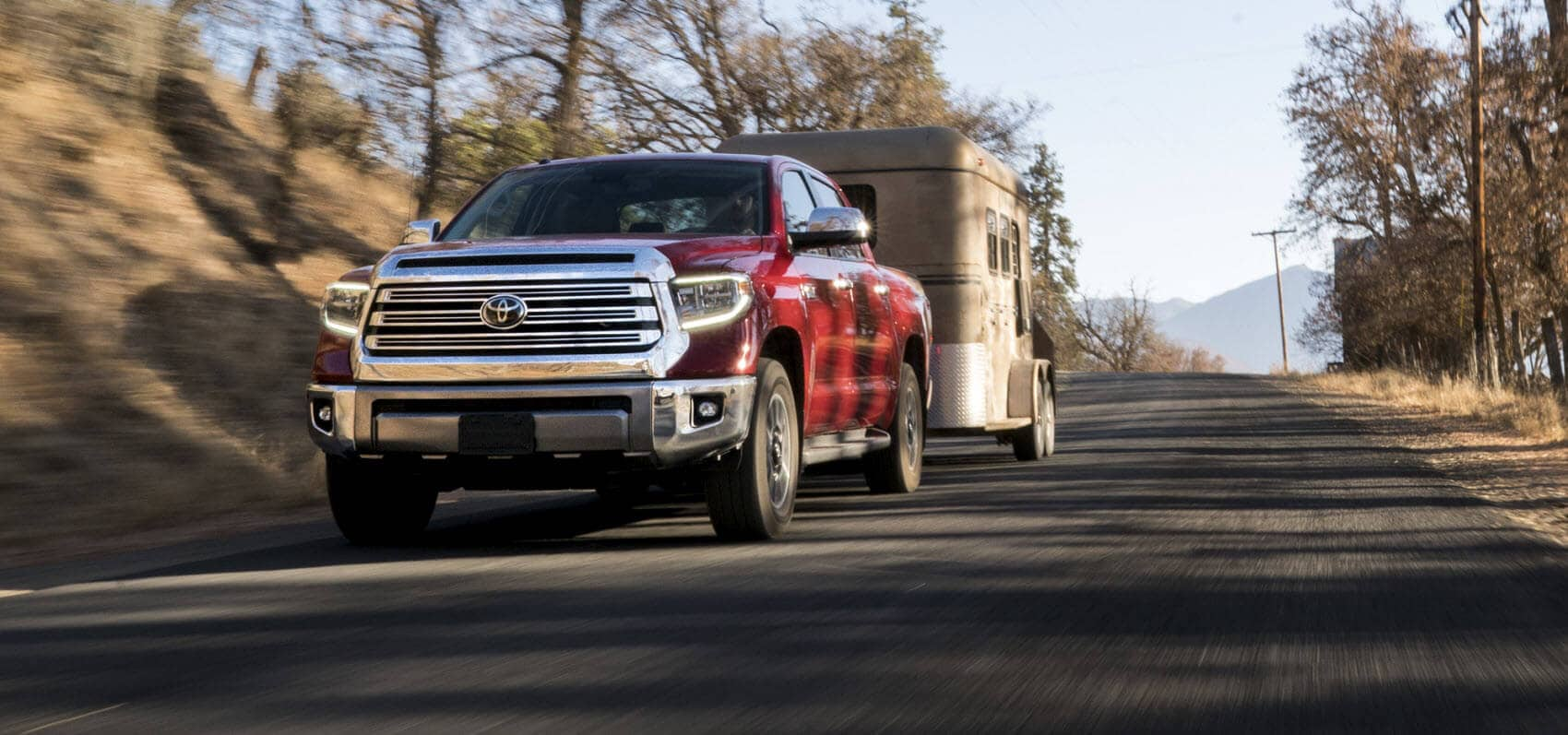 The 2020 Toyota Tundra gets its extreme towing capacity from a 5.7-liter i-FORCE V8 engine under the hood. This commanding motor generates 381 horsepower and 401 lb-ft of torque for supreme and refined power, no matter where the road takes you.
This bold engine, combined with a rugged TripleTech™ frame, helps to provide a maximum towing capacity of 10,200 pounds. Even when you're towing heavy machinery behind you, there's no need to stop often to refuel. That's because the Tundra boasts a 38-gallon fuel tank, helping you stay on the road for over 650 highway miles.
---
What Can the Tundra Tow?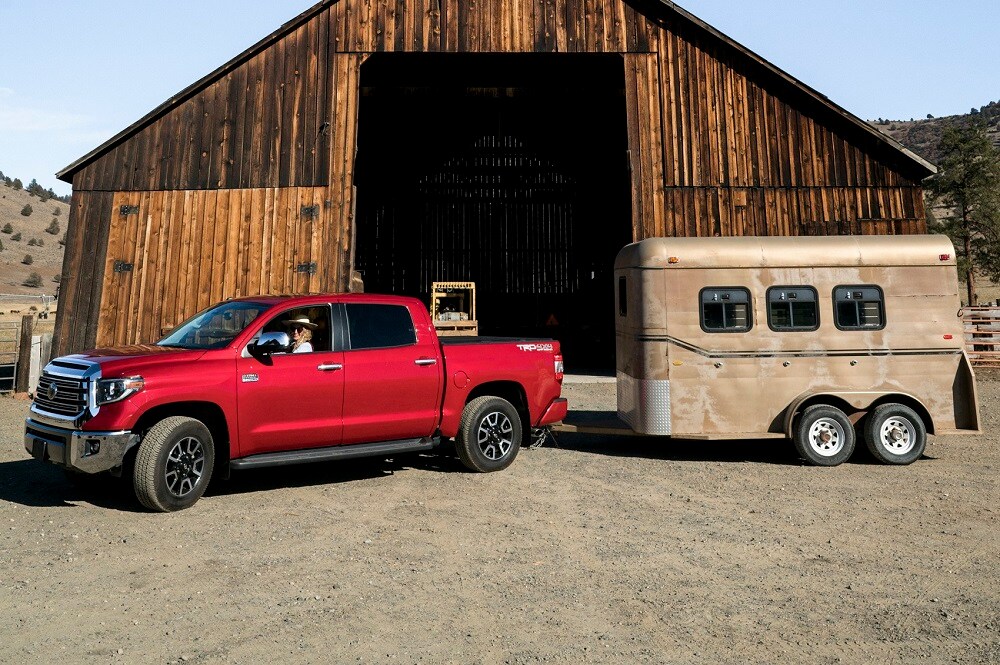 With this type of muscle, the Toyota Tundra can haul a whole host of equipment for your worksite, as well as an array of toys for supreme weekend adventures.
Some examples of what this truck can haul include:
A 2-horse trailer for out-of-town shows
A 25-foot-long camper for a family escape to the mountains or woods
A large fishing boat to help you unwind on the weekends at the bay
A water ski boat for thrilling fun on the water
A utility trailer packed with building materials or hefty work equipment
No matter what you decide to tow, the 2020 Tundra is up for the job, making it a great option to help you out with your next worksite project.
---
A More Confident & Stable Tow
With the ability to lug around some heavy equipment, you'll be happy to have a bevy of available sophisticated systems designed to create a more controlled and enjoyable tow.
When hauling a trailer behind you, select Tow/Haul mode. This feature instinctively holds your gears longer to prevent having to search around for the proper gear. When selected, it also increases throttle, pulling power, and braking for a more controlled tow overall.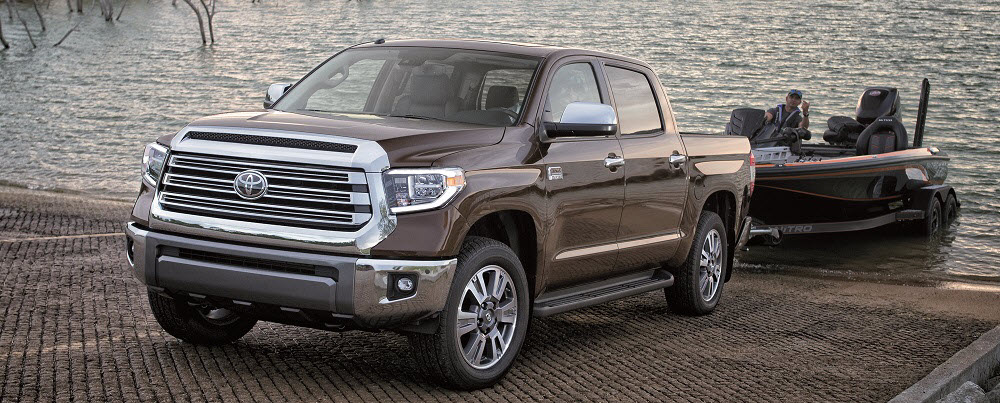 When jetting down the highway with your camper on the way to an exciting destination, Trailer-Sway Control comes in handy. It applies brake pressure to the individual wheels for a more stable drive that keeps your trailer firmly planted on the road around every twist and turn.
An Integrated Trailer Brake Controller then continues this solidity by allowing you to adjust the amount of braking power needed for the specific weight of your trailer. Therefore, if traffic grinds to a halt in front of you, you'll be able to safely come to a stop.
---
Room for All Your Essentials
Tundra Maximum Payload Capacity: 1,730 pounds
Tundra Bed Length Options: 66.7 inches, 78.7 inches, and 97.6 inches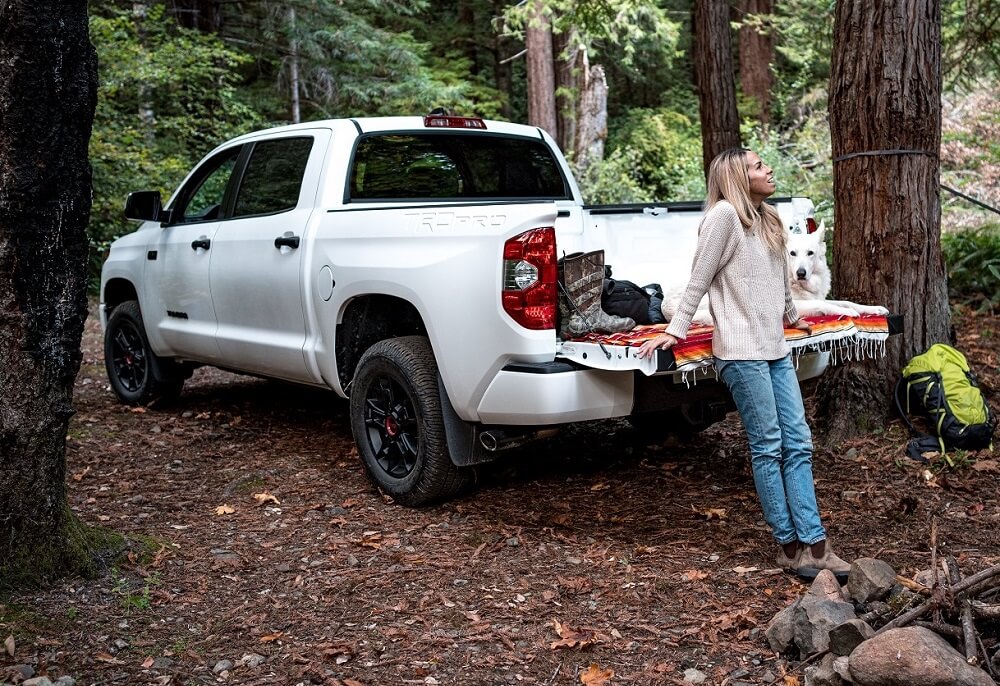 In addition to being able to tow a water ski boat, the 2020 Toyota Tundra has a maximum payload capacity of 1,730 pounds, when properly equipped. This allows you to throw your heavy worksite equipment in the truck bed and hit the road.
To keep your machinery secure throughout the ride, a deck rail system with four adjustable tie-down cleats is available. Each tie-down can hold up to 220 pounds, so your lawn mower or ATV will be secure, no matter how bumpy the road ahead may be.
To meet all your worksite demands, you'll have your choice between three bed lengths in the Tundra: 66.7 inches, 78.7 inches, and 97.6 inches. No matter which cargo bed you select, you'll be treated to a bed width of 66.4 inches, so you can fit sheets of plywood or drywall with ease.
---
Built to Handle Whatever Comes Your Way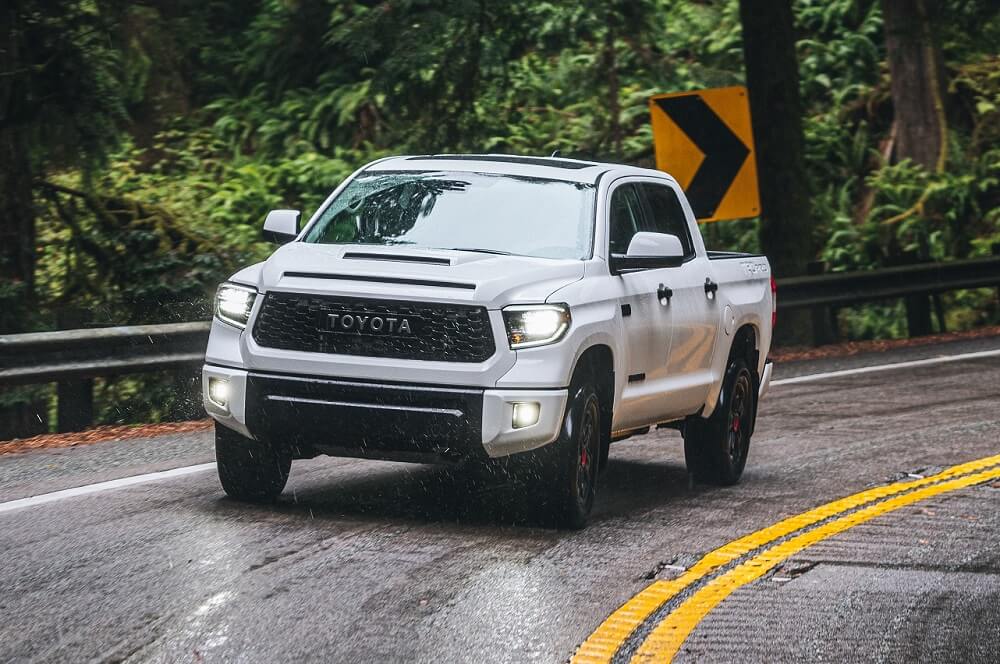 From encountering mud around your worksite to heading into the woods with your trailer for a camping adventure, the 2020 Toyota Tundra is designed to provide you with extra stability and control. To take on heavy snow and sandy roads, arm your truck with the available 4-wheel drive system.
It's then paired with Active Traction Control, which optimizes traction across the front and rear axles to improve your grip on low-traction surfaces. This system also allows for full use of the 2-speed transfer case, so you'll still be able to access the breathtaking torque that this pickup provides.
If you're planning on venturing on truly unpredictable roads, choose the TRD Off-Road Package. It adds off-road amenities like a skid plate, which helps keep essential components safe from boulders and branches on the trail ahead. Ride height is also raised to 10.6 inches, allowing you to sail over any obstacles in your path.
---
Experience the Towing Capabilities of the 2020 Toyota Tundra Today
Now that you've seen how the 2020 Toyota Tundra can fit into your demanding Edgewood, Clayton, Bel Air, or Baltimore, Maryland, lifestyle, the next step is to stop by the showroom at Thompson Toyota. A member of our sales team would be happy to answer all your questions and show you everything there is to love about the Tundra.
Each trim level brings a different towing capability, so work with a member of our team to ensure you properly equip your Tundra to meet your specific needs.
To make getting behind the wheel of your next truck as simple as possible, you can finance right on site with our dealership. Just give us a call to discuss any financing questions or concerns you may have, and we'll work with you to find your ideal plan at a rate you'll love.
Contact us today to get started and schedule a test drive of the Tundra!