Compact SUVs are some of the hottest models on the market in Edgewood, MD as drivers discover their easy drivability, raised view of the road, and exceptional capability and carrying capacity.

If you plan on buying or leasing a new crossover, you've probably considered both the Toyota RAV4 and the Honda CR-V. If you are still undecided, our review of these two models may help.
Is a great deal most important to you? Then jump ahead to the new vehicle incentives available now at Thompson Toyota.
2017 Toyota RAV4 vs. 2017 Honda CR-V: Brand Reputation and Awards
When you purchase a Toyota, you know you are getting a vehicle you can trust for years down the road without inconvenient repairs or problems. Honda is also very reliable, but when you need the best of the best, put your money on the Toyota.
Did you know?
Over 90-percent of all RAV4 models sold in the last ten years are still on the road today
Toyota was named the most trusted brand in the import automobile category by Reader's Digest in 2015
Toyota models are the longest lasting vehicle of any full-line automotive manufacturer, according to an IHS Automotive survey
The 2017 RAV4 is both an IIHS Top Safety Pick+, and earned a Five Star overall safety rating from the NHTSA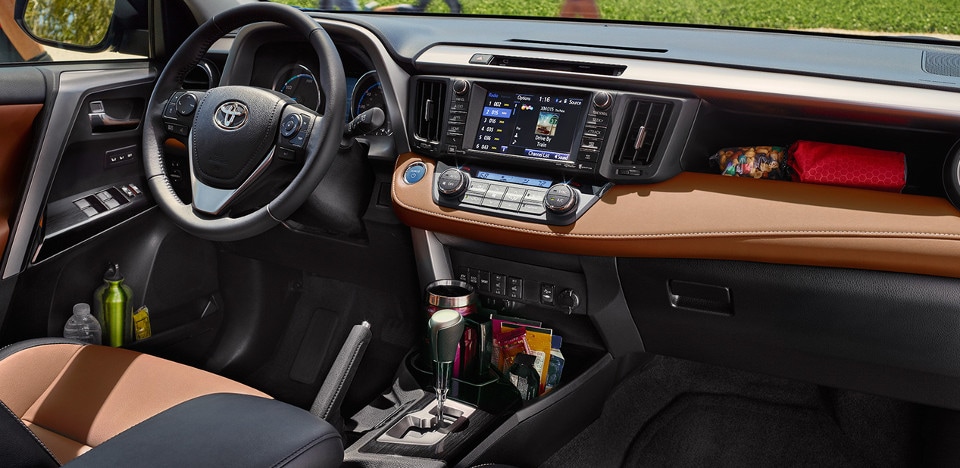 2017 Toyota RAV4 vs. 2017 Honda CR-V: Technology & Entertainment
Technology is an important aspect in many modern crossovers, and we found ourselves most impressed by the features we found in the 2017 Toyota RAV4. When you schedule a test drive at our dealership in Edgewood, MD, a member of our team will point out each feature and how to use it.
Both models come standard with a rearview camera, but the RAV4 has an available 360-degree camera as well.
The frontal collision prevention system in the Toyota can sense not only large objects like other cars but small objects like pedestrians for increased safety on busy streets.
The Toyota RAV4 comes standard with six-speaker audio and a 6.1-in. touchscreen display. The Honda CR-V comes standard with a 5-in. LCD display and four-speakers.
The Entune infotainment system exclusive to Toyota includes an app suite, voice recognition, Bluetooth® calling and music streaming, navigation, predictive traffic and weather, Gracenote® album cover art, a split-screen display, and much more.
Though the Honda CR-V is available with a height-adjustable power liftgate, the RAV4 does one better with a hands-free, foot activated liftgate for those many occasions you'll likely find your hands full of groceries, luggage, or sports equipment.
2017 Toyota RAV4 vs. 2017 Honda CR-V: Exterior Design
Both the RAV4 and the CR-V have been recently refreshed: the Toyota model in 2016, and the Honda model this year. However, we still love the look of the 2017 Toyota RAV4 more, and we think you will too.
The RAV4 has sharp, dynamic lines compared to more rounded edges with the Honda CR-V
The RAV4 is available in a two-tone "S-Code" color scheme
Each trim of the RAV4 comes with its own unique wheel design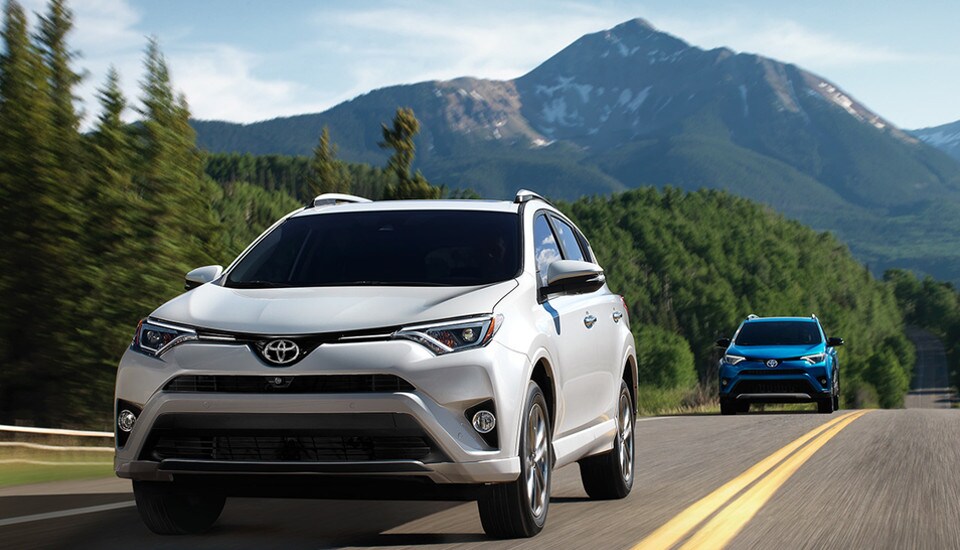 Get a better look at the new 2017 RAV4 at our Toyota dealership in Edgewood, MD. Do you have further questions about how the 2017 Toyota RAV4 compares to the competition? We can always be reached at (888)-415-2641.