Want a yummy way to give back to Casey Cares?

Bring a new pair of pajamas to ANY of the 41 participating Chick-fil-A Baltimore-Area Operators on April 16th, and you will receive a card for a free breakfast entree!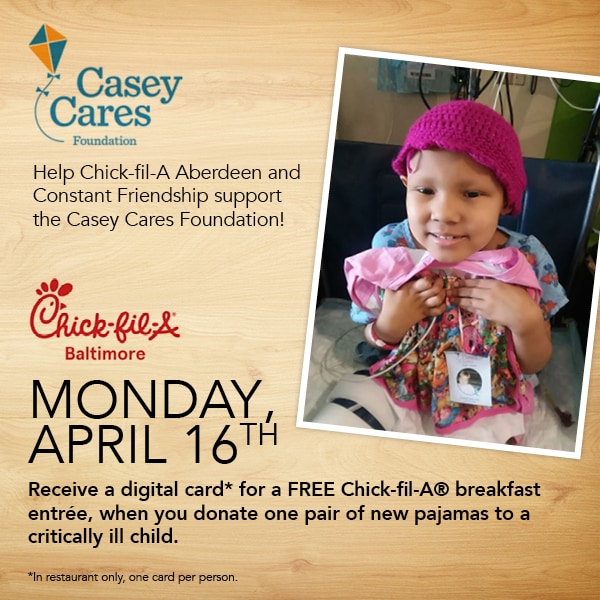 You've been through thick and thin, you and your favorite old truck. Maybe you've had it since you were young and first learned to drive. So how do you know when it's time to trade it in? Here are a few good indications.  
If you travel a lot with your kids, you know that they are easily bored and need fun games and activities to keep them entertained. If your kids are fans of tic tac toe, you can create this easy DIY felt travel board that will keep your kids entertained in the car. The best part, when you arrive at your destination, take it in with you so the whole family can play!
 Buying a car can be an exciting, yet intimidating process for most of us.  Here are some tips to make sure you are prepared before going to the dealership.
Dash lights lighting up can mean different things. The most important thing to keep an eye on is the color. For instance, red lights a possible serious issue, orange or yellow means something in the car needs to be replaced soon and green or blue merely means that something is on and working.
It feels good to wash your cars when the sun is out. But there is a right way and a wrong way to wash your car.  Here are some great tips.
Car seats can be very confusing. One fact that many might not know is that you should never put your child in the seat without the seat pad that comes with it. It is also unsafe to add certain padding or products that did not come with the seat. Here are some guidelines to follow.